You guys do know that I am an author too?
I write stories, and I love… Love stories. I know, I'm a hopeless romantic!
Anyway, I'm in the process of writing a new story. I haven't come up with the title for it yet, but I'm calling it "An Eccentric Love Story".
It's a mix of a Benny & Joon, Juno, and a Princess Diaries kind of story.

The main character is based on myself, being an eccentric character who works as a photographer for her local newspaper company. She faints at the sight of blood, and she enjoys tapioca and Darjeeling tea at lunchtime. Her full name is Juniper Harper, but she prefers to go by a nickname she chose for herself, "Juice". Juice is twenty two years old, but still acts as though she were in High School.
The other main character is Bert. His full name is Roberto, and he meets Juice when he goes to stay with his cousin, Carlos, who is best friends with Juice and lives only a few blocks from her apartment building. Bert is a very eccentric character as well, and he loves to eat marble cake with pink lemonade. (And he's very picky about the lemonade being pink.) He loves movies and tends to nibble at Tic Tacs when he gets nervous. He falls in love with Juice right away, and invites her to movies and the cafe for Tapioca pudding…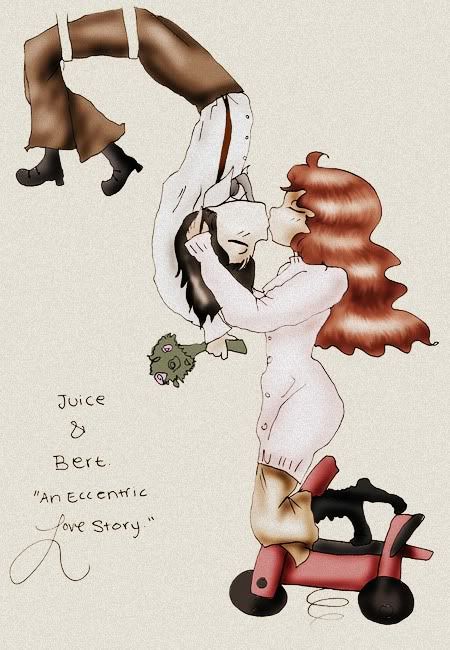 Their love grows and they awkwardly find out that they love each other.
Things seem to be going quite good between the two, until awkward situations lead to misunderstandings and tragedy.
These two eccentric people search for what it means to really love each other, and they struggle with their society's image of "normal"… Together, Juice and Bert create a comedic, romantic love story.
The story is told through the point of view of Juice.
I was thinking about turning this story into a short film after it's finished.
What do you think?